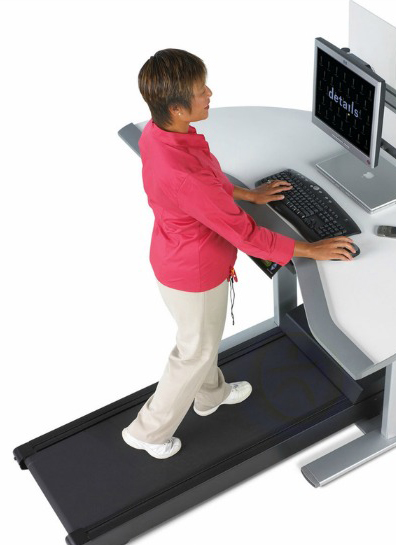 At financial services company Salo, video golf games, ping-pong table and foosball tables are provided to employees through creative obstacles. But the most prominent workplace feature at this one-of-a-kind office might surprise you: treadmill desks.
Founded in 2011, Salo offers human resource, accounting and senior-level finance professionals around the world. The company has offices in Minneapolis and Chicago, with 330 total employees between the two locations. In an effort to fuel productivity and creativity. Workers are allowed to pace on these treadmills while reading emails or talking on the phones. Other sit on exercise balls or stand at desks.
According to the University of Minnesota, a little exercise at the office may increase employee output. Organized by Carlson School of Management professor Avner Ben-Ner, a recent study examined 40 employees for an entire year at Salo. Workers had a phone, computer and writing space in front of the assigned treadmill. The treadmill was set at less than 2 miles per hour. All activities – walking on a treadmill, sitting on an exercise ball, standing at a desk – were voluntary. The end result? Treadmills increased worker productivity by almost 10 percent.
The study also concluded that employees who are health and activity receive more blood flow to the brain. An employer's financial investment of a few hundred dollars for a suitable workstation may eventually pay off. A previous Mayo Clinic study found that offering helped develop a culture of fitness and movement at the company. Capitalizing on this new trend, large companies such as Great Clips and Best Buys have set up standing desks, treadmills and other equipment designed to get employees on their feet.
Some of the old rules still apply at Salo. In order to encourage a certain level of decorum, all employees are required to wear business attire. And even with these new capabilities, most workers still relied on their traditional daily routine.