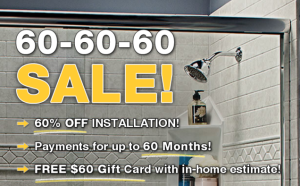 Until March 31, 2016, Bath Planet customers can enjoy a free in-home estimate and talk about their decision over dinner. We recently sat down with Bath Planet home improvement experts to find out what all the talk was about.
InformatioNation: Thanks for visiting with us today. We've been hearing a lot about Bath Planet lately.
Bath Planet: Well, we're certainly happy to hear that!
IN: We understand you have a very special gift you're offering with each new estimate?
Bath Planet: Yes! Our 60-60-60 sale has been so popular, we've extended the program until the end of March. We're giving away a $60 Restaurant.com gift card when we complete a free in-home estimate.
IN: Really? What's the catch?
Bath Planet: There's no catch!
IN: Tell us more about the sale…
Bath Planet: The 60-60-60 Sale is the special promotion we have going right now.  It offers customers a huge percentage — 60% — off installation.
IN: On a new bath tub?
Bath Planet: The promo is good on a new bath or shower.
IN: Ok, so a $60 Restaurant.com gift card and 60% off…where does the other 60 come into play?
Bath Planet: Glad you asked; customers can get up to 60 months of financing with this deal!
IN: That sounds like it means low monthly payments.
Bath Planet: Sure does! You won't find a better value.
IN: Alright, but let's talk quality. Is this deal good only on "bottom of the barrel" or second run products?
Bath Planet: No way! All of our premium acrylic bath and shower systems are first quality. We won't sell a factory reject.
IN: What kinds of bath remodeling products does Bath Planet offer?
Bath Planet: First, you need to know that we are owned by BCI Acrylic, Inc. BCI is one of the nation's leading makers of high-quality bathtubs, bath liners, wall surrounds, shower bases, and shower liners.
IN: Go on…
Bath Planet: We also have senior safety solutions, like barrier-free showers and jetted walk-in tubs.
IN: Design-wise, what are your customer's options?
Bath Planet: That's where Bath Planet really shines! We have numerous colors and patterns available that fit into all types of design plans – from a simple modern style to ornate classic architecture.
IN: Tell us about the online Design Studio…
Bath Planet: Our interactive Design Studio lets customers pick and choose their bathroom products, including accessories.
IN: In other words, they can see what their space will look like before they order?
Bath Planet: Yes, exactly. And, if they'd like a better idea of what everything looks like in a real-world setting, we have set up a gallery that showcases each of our product lines.
IN: That sounds like fun. We're out of time now, so maybe our readers can take a moment to check that out if you'll tell us where to find you.
Bath Planet: They can visit BathPlanet.com 24/7!