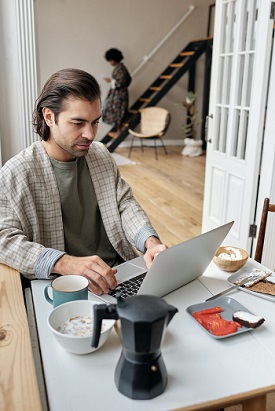 Fact: Covid-19 has changed the way people view work, and how they work. Mandatory self-isolation has prompted companies to implement work from home policies. Has work as we know it changed permanently? How has remote working affected morale and office productivity?
Yes, remote work and its different iterations will be part of a new normal. Thanks to messaging apps, video conferencing tools, file-sharing software, and project management platforms, it's now easier for teams to collaborate and be productive, whether they are in the same physical office or in different time zones.
More and more workers seem to be embracing this reality. Analyzing U.S. Census and Bureau of Labor Statistics Data, job search site FlexJobs shared that remote working in the country increased by 159 percent between 2005 and 2017. However, they still make up a minuscule percentage of the workforce at 3.4 percent (4.7 million).
With the onset of the pandemic, businesses and other institutions are rushing to adopt remote arrangements at an unprecedented rate. Universities, for example, have shifted to online lectures in a matter of weeks.
It will be difficult to go back to the status quo once policies are in place.
How Remote Work Is Changing Current Business Models
Companies and their teams treat remote work differently. For some, isolation from company culture is a major deterrent. Others prefer home office flexibility when compared to going into an office with set work hours (i.e., 9 a.m. to 5 p.m.)
Employees working remotely are at more risk for distractions, such as having children needing help with their own remote schoolwork. Insufficient internet connectivity is also a concern.
On the other hand, remote employees enjoy the benefits of greater flexibility, reduced commutes, and increased productivity. In fact, research and advisory company Gartner says that organizations that support a "choose-your-own-work-style" culture will boost employee retention rates by more than 10 percent.
When it comes to hiring talent, companies are no longer restricted geographically and could hire from anywhere. 
Remote work also allows companies to save on overhead costs such as rent. Executives are realizing that they do not need to have a huge amount of space to remain operational and productive. Companies such as AETNA, Dell, and American Express are saving millions of dollars a year in real estate, utility, and housekeeping costs through telecommuting and remote work initiatives; these savings could be reallocated to operational innovations that would grow the business.
In a Bloomberg TV interview, Morgan Stanley CEO James Gorman says, "We've proven we can operate with no footprint. Can I see a future where part of every week, certainly part of every month, a lot of our employees will be at home? Absolutely."
Embracing The Cloud
Companies could enhance remote work productivity and downsize real estate costs even further through Cloud computing. These are virtual data centers that enable the on-demand availability of data storage and computing capability.
Cloud computing lets businesses have enterprise-level hardware, software, and security without prohibitive capital expenditures. It allows businesses to:
Backup company records to a secure, remote location as opposed to storing them on site. Companies can do away with "on-premise" server rooms filled with aging equipment.

Expand or reduce data storage in a matter of minutes, depending on current requirements.

Sell software online as an always updated subscription (SaaS).

Offer workers secure, online access to business applications. This allows them to log in from just about anywhere with an internet connection. 

Easily meet compliance standards.

To date, Nashville-based managed IT service provider ImageQuest has helped 41 clients across the country transition to Cloud-based services, whether it's a combination of Infrastructure as a Service (IaaS) and Desktop as a Service (DaaS) or Microsoft Cloud.

Managed IT Service Solutions Make Remote Work, Work

Companies can take on both a technological and human-centered approach when encouraging employees to embrace a remote work environment. Firstly, they must equip workers with the necessary tools to carry out their tasks successfully. This can include collaboration software, video conferencing, and presentation solutions. These should be mobile-friendly and easy to use– allowing employees to meaningfully engage with their colleagues and leaders.

To complement Cloud solutions in place, workers should be issued with company-owned devices and have access to virtual private networks (VPNs) to secure sensitive data. Additionally, a solid internet connection is also essential and there should be policies in place to support workers who don't have stable connectivity. 

Remote workers need to be backed up by reliable and efficient technical support to ensure that all these tools and systems are running 24/7. Nashville-based managed IT service provider ImageQuest offers software and hardware support, guidance, and installation. ImageQuest also has a help desk service to resolve issues in real-time. 

Additionally, companies should see to it that both the nature of the job and the employee are suitable for remote work. Performance must be appraised based on agreed-upon KPIs and not on the number of hours the employee is at his/her desk.

Governance and compliance requirements should likewise be considered. Workers handling confidential financial data, for example, might not be permitted to work from home.

In a way, the pandemic has prompted businesses to evaluate their current infrastructure and processes and identify opportunities for modernization. While remote work might require an additional investment for many organizations, the benefits will be felt long after the Covid-19 pandemic has ended. 

With remote work-ready teams and an efficient managed IT service provider in place, companies can stay afloat during times of crisis and beyond.

Founded in 2007, ImageQuest LLC offers managed IT services for companies in Nashville, TN; Louisville, KY; and Bowling Green, KY. Technology solutions include consulting, infrastructure, data compliance, and regulatory IT audit assistance. For more information on managed IT service, contact ImageQuest at 888.979.2679.