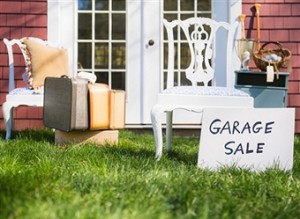 If you have accumulated a lot of stuff over the years, consider having a garage sale prior to your next move. Getting rid of unnecessary items will help you earn some extra cash and save you time since you will have fewer items to pack. If you follow the tips below, you are bound to have a successful and fun garage sale.
Prepare
Give yourself one or two weeks to prepare and advertise. Most people hold their garage sales on Saturdays; however, some will continue until Sunday or even start as early as Friday. Make sure to pick a mild day, and check with your neighbors if you want to coordinate a block garage sale. The more people participate, the larger the draw.
Advertise
The key to any successful event is getting the word out. Place an ad in the local newspaper or on Craigslist. Signs are another great way to notify your community. Make sure you have permission to hang them or post them in the various places. Just make sure you print in big letters so people can read the information from their cars.
 
Organize tables
It's important to be organized and make items accessible to customers. Folding tables are best to keep things off the ground. Having your items displayed so they are easy to find will increase sales.
 
Pricing
If you have a lot of stuff to sell, try to pre-price your items using stickers. Be realistic about pricing. The general rule of thumb is that if an item is still in its box or you still have the box and instructions, it's fair to ask one-quarter of the original price. Clothes should be greatly reduced. If anything is left over at the end of the garage sale, consider donating them to charitable organizations.