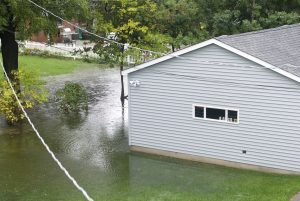 Water damage restoration experts in Nashville, Tennessee, are no strangers to flooding. However, homeowners may not be as confident in their ability to handle the aftermath of torrential downpours. Keep reading below as techs from Rytech Nashville share their knowledge on how to prepare your land for the next outbreak of rain.
Q: What causes water pooling?
Rytech Nashville: There are many potential answers to that question. However, poor grading, which is often caused by erosion, is one of the most common culprits around Nashville. Our water damage restoration teams are often tasked with explaining to homeowners that the rain is not the problem but their landscape.
Q: How do you grade around a house?
Rytech Nashville: First, spend an afternoon walking around the perimeter of your home. If the soil that touches your foundation is the same height or lower than that a few feet away, you almost certainly have a grading issue. Fortunately, this is not difficult to resolve. Add soil at a slope of one inch per linear foot with the highest point of the grade closest to the structure.
Q: What is a French drain?
Rytech Nashville: A French drain is a long piece of plastic tubing with perforations along one side. It is placed in the ground, perforated side up, and then covered with gravel, a thin layer of mesh, and then topped with soil. It collects rainwater and, once the ground is saturated, diverts excess water away from a home, pool, or garage.
Q: As Nashville's damage restoration experts, what is one piece of advice that you would like to offer to all homeowners?
Rytech Nashville: One of the most important things homeowners can do to protect themselves from flooding is to check their gutters. Gutters that are clogged will quickly overflow, and that can lead to water pooling around the home's foundation. Gutters should be at least five inches wide with downspouts that extend using pipes similar to French drains.
Q: Is it possible to reduce standing water in depressions in my lawn?
Rytech Nashville: This also requires grading, but it is possible. You will likely need to contact a landscaping company to create a gentle swale, which is like a shallow valley. This gives excess water runoff a path to take away from your yard and home.
Q: What are some steps I should take if my home floods?
Rytech Nashville: Call a water damage restoration company for a quick and thorough evaluation. If you can safely reach the breaker box, turn off the main power. Keep children and pets out of flooded areas, which may contain harmful contaminants. Keep in mind that the sooner things dry out the better since moisture feeds mold, which thrives during warm Nashville summers. Your water damage restoration crew will employ high-powered fans and other techniques and equipment to dry things out quickly so that your life can get back to normal.
Visit www.rytechinc.com/nashville or call 615-751-8445 for more information.