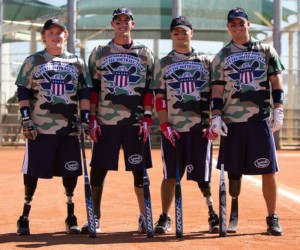 Veterans have given more to North America than any other demographic in the history of time. For this reason, Kitchen Charm, a Wisconsin-based firm with representatives all over the US and Canada, supports the Wounded Warrior Amputee Softball Team (WWAST). Here, Kitchen Charm reps discuss the nonprofit and reveal how a special group of veterans are giving even more.
Q: Thank you for joining us today.
Kitchen Charm: We're happy to be here.
Q: We understand that Kitchen Charm supports a number of charities, including the Wounded Warrior Amputee Softball Team… Would you mind sharing a bit about the organization with our readers?
Kitchen Charm: Absolutely, those men and women are some of the most amazing people we've ever had the pleasure of meeting.
Q: So what, exactly, is the WWAST?
Kitchen Charm: This is a nonprofit organization that does a couple different things. For one, it's an actual softball team comprised solely of wounded veterans who have suffered a limb loss. Many have lost one or both legs, some are missing other appendages, such as arms or fingers.
Q: That in itself is pretty remarkable.
Kitchen Charm: We agree completely. However, what really makes the WWAST stand out is the team's commitment to children.
Q: How's that?
Kitchen Charm: Every year, the team's organizers plan a week-long softball camp for children living with amputee disorder.
Q: Do these kids get to play?
Kitchen Charm: Yes, that's one of the many things they get to do during the week-long camp! They learn the fundamentals of softball and to how to successfully overcome their disabilities to form a cohesive and effective team.
Q: So you have amputee veterans teaching children with missing limbs how to play softball. That sounds pretty remarkable.
Kitchen Charm: It is, especially when you see how the children react to seeing these men and women perform on the field.
Q: We've looked at the website, and judging from some of the photos and videos, these players could hold their own against any team.
Kitchen Charm: That's probably true. With everything that these brave veterans have endured throughout their life, there's probably nothing they can't handle. That's one of the lessons that children who attend the camp get to see firsthand.
Q: How many kids enroll in camp each year?
Kitchen Charm: The WWAST kid's camp is available for children 8-years to 12-years old. There are 20 spots available with priority enrollment given to military children.
Q: What do the volunteer players get out of the camp experience?
Kitchen Charm: These men and women have the opportunity to make a positive impact on children dealing with similar conditions as themselves. Seeing the look on a child's face when he or she realizes that being different doesn't exclude them from participating in the world is one of the most rewarding experiences you'll ever have.
Q: How does Kitchen Charm support these organizations?
Kitchen Charm: We offer cash donations through fundraising opportunities at both the corporate and independent representative level. The sale of our cookware often generates a sizable donation.
Q: How can we get involved?
Kitchen Charm: The WWAST gladly accept donations to their website woundedwarrioramputeesoftballteam.org.
Q: Where does the money go?
Kitchen Charm: The team sponsors camp attendees as well as one parent, including room, board, and activities for the duration of their stay. Money donated helps pay for these expenses.
Q: It certainly sounds like a worthwhile charity and one we're happy that you shed some light on.
Kitchen Charm: We appreciate the opportunity and agree completely. Thank you.