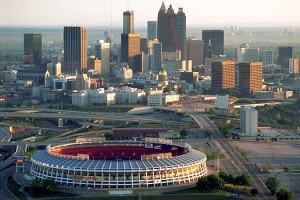 Among the most populous U.S. metro areas, Atlanta ranks as the least costly location for business according to a new survey.
The 2014 Competitive Alternatives study was created by the audit, tax and advisory firm KPMG LLP. In receiving first-place honors, Atlanta was cited for its low factory lease and transportation costs, as well as low downtown office and suburban lease costs.
Cincinnati ranked second in the study, followed by Orlando, Florida; Charlotte, North Carolina; and San Antonio, Texas. Rounding out the Top 10 list are Tampa, Florida; Cleveland, Ohio; Pittsburgh, Pennsylvania; St. Louis, Missouri; and Phoenix, Arizona.
KPMG helps companies that are consolidating, relocation or expanding their facilities. By examining factors that contribute to operating costs, businesses are more aware of which markets may be most advantageous for their future activities.
The KPMG Competitive Alternatives study examined 26 cost components in each entrant in the large-city category, including costs related to utilities, transportation, facilities, labor and taxes. The top five cities in order of cost indexes were:
Atlanta (94.7)
Cincinnati (94.9)
Orlando (95.1)
Charlotte (95.2)
San Antonio (95.6)
San Antonio has the lowest wage and salary costs, along with low costs for electricity and gas. San Francisco and New York City are the most expensive U.S. cities for business owners, with cost indexes of 104.2 and 103.6, respectively.
According to the study, organizations must also pay close attention to no-cost factors including quality of life, cost of living, regulatory environment, innovation, infrastructure, economic conditions, labor skills and labor availability.
The KPMG Competitive Alternatives study is designed to offer perspective for companies and organizations as they navigate the complex process of selecting sites. In its portfolio of research studies, KPMG has examined business costs and related factors in 10 countries: Mexico, Japan, Italy, Germany, France, Canada, Australia, the United States, the Netherlands and the United Kingdom.