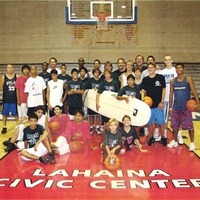 According to Rising Stars founder Paul Savramis, the success of children's summer camps is founded on a diverse range of activities. Paul Savramis observes that adding a new sport or two into his basketball camps has kept children engaged and has improved retention for his popular program.
After receiving a degree in physical education, Paul Savramis put his knowledge to good use by creating camps that introduce sports as a fun and exciting pastime. Paul Savramis offers basketball and surfing camps in California and Maui with the intent of teaching children the power of exercise and cross training. Additionally, Paul Savramis introduces life skills and values that encourage them to establish relationships and develop social skills that will serve them well throughout their lives.
For Paul Savramis and his Rising Stars team, basketball is not only is the core focus of their sports camps it is the vehicle that reaches out to kids with a positive message.
The primary goal is for kids to have fun and to want to be involved. The key is involvement and interest in getting involved. Combining and mixing sports allows for that and more.
Through the power of teams and throughout every Rising Stars camp or clinic Rising Stars coach's that are also certified teachers assure that every child receives ample emotional and intellectual support. Paul Savramis has conducted camps throughout the country and around the world and he continues to monitor his students' progress well after they leave Rising Stars. Many of them like current Rising Stars executive director Dan Gimpel and Rising Stars ambassador ESPN'S Jay Williams return to give back what they received from the programs.
At Rising Stars, Paul Savramis built the success of his sports camps around games and contests as opposed to more traditional elements like stations and drills. Rising Stars camps incorporate myriad games and skills so that kids are never bored, Paul Savramis says.
For Paul Savramis, the Rising Stars team has drawn inspiration from a number of sources. The surfing theme was developed after discussions with his team members in California. Paul Savramis labeled the camps "Surf and Swish," with both activities featured prominently throughout each day. The same theme was implemented in Maui, where some of the greatest local surfers were enrolled. Paul Savramis switched the program in Switzerland, where winter sports like skiing reign supreme. Some children are turned off by traditional basketball camps, Paul Savramis says. For that reason, he has learned to change gears and challenge students with a well-rounded program.
Paul Savramis observes that the Rising Stars camps are much different from more mainstream camps, with the combination of sports making sense for his overall mission. For Paul Savramis, his biggest achievement is giving kids a chance to be kids and have fun. Eventually, they will reach key milestones in their personal and professional lives as a result of the organization's early emphasis on character development. At Rising Stars, young people grow up in a nurturing environment where they learn the value of teamwork and respect for others.