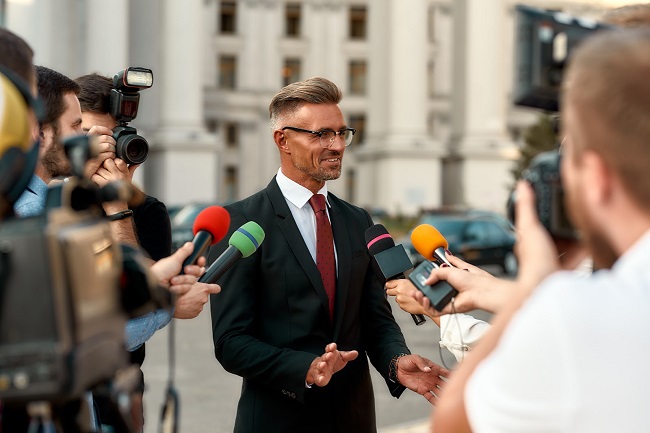 With leaner newsroom teams and events happening 24/7, PR firms in Charlotte, NC are constantly working to build relationships with journalists and vying for their attention. Whether it's to address a PR crisis that threatens to damage a brand's reputation or just to establish industry thought leadership, it's essential to have a communications strategy that clearly conveys the message across to members of the press.
Kim McKeeman, CEO of McKeeman Communications, a PR firm serving Charlotte, NC, talks about statements to avoid when speaking with reporters.
How should we respond to a reporter asking a question we'd rather not answer?
Kim: In most cases, saying "No comment" can be misconstrued as an admission of guilt, or it would appear as if you are trying to hide something. Explain why you're unable to share any information at the moment. You can say, "We're still gathering facts and will have a statement after we have more details," or  "Because there is an ongoing investigation, I'd recommend working directly with the police to get the most accurate information."
When is it acceptable to express one's personal opinion?
Kim: Personal opinions should be kept to oneself at all times, no matter how "safe" these may sound. Remember, as a representative of the brand, your views can be taken for that of the organization.
Let me just add that it's never a good idea to respond negatively or defensively to a crisis situation. It's so easy to go viral in a bad way nowadays, especially with the pervasiveness of social media. The news cycle is short and any crisis will almost certainly blow over. The internet always remembers and will judge you by the way you've handled the situation.
Can certain information be kept off the record?
Kim: PR firms in Charlotte, NC will tell you there is no such thing. When you say information is off the record, reporters might think the information can be used in such a way that it's okay to identify the organization but not the source. That information might be spliced, taken out of context, and used in subsequent stories. You end up relinquishing control over how or when the information will be used. It's best to plan as if anything you might share can be published.
There are businesses, particularly in finance and technology, that use technical jargon when speaking with reporters. What do you think of this practice? 
Kim: Technical jargon obscures the primary message and limits one's reach. Talking in such a way that only industry professionals and specialists can understand what you're saying won't pique a reporter's interest.
How can organizations improve the way they engage with reporters and not be caught off-guard?
Kim: Media relations training is a great investment. These training sessions go beyond media interviews and teach participants how to conduct presentations and interact with various stakeholders.  
Media relations training lays the groundwork for a business' crisis response strategy; team members learn how to engage with reporters BEFORE it gets to an interview stage. It also challenges staff to simulate crisis scenarios or hardball questions and how to respond. This empowers more employees to become brand ambassadors, opening up brand engagement opportunities unheard of back in the day.
One of the top PR firms in Charlotte, NC, McKeeman Communications is an independent PR agency working with companies that are experiencing rapid growth or change.  They help localize and share messaging that builds awareness and trust for their brands. call (866) 341-2650 or email info@mckeemanpr.com.