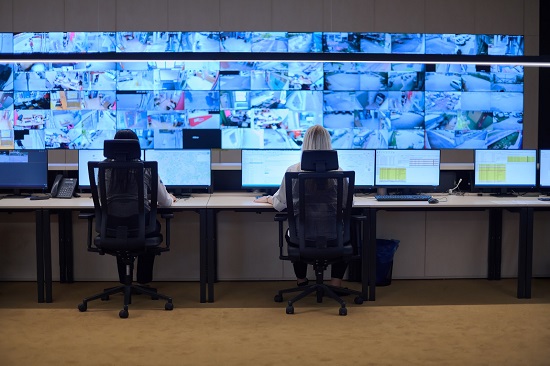 These days security cameras have multi-channel recording capability. This ensures that there are no blind spots in your security monitoring.
GeoVision's GV-VMS is a comprehensive video management system that can record up to 64 channels of GeoVision and/or third-party IP devices. Live view and playback functions can be easily adjusted thanks to its intuitive drag-and-drop feature. 
Designed with advanced video analytics, the system generates heat-maps. These highlight high foot traffic versus low foot traffic areas over a specific period. This is valuable information, especially for retail businesses. It is also capable of face recognition, missing object detection, crowd detection, and others.  Users can program the system to send text alerts should any movement be detected.
Access live views and recordings from virtually anywhere using a web browser, mobile app, or Remote ViewLog thanks to a built-in webcam server. Compatibility with the GeoVison Central Monitoring System (GV-CMS) and a wide selection of third-party IP cameras, makes the GV-VMS a versatile and hardworking surveillance solution.
Key features include:
Supports Fisheye Dewarping (GeoVision and 3rd party fisheye cameras)

Supports H.265 and Smart stream CODEC to reduce file size and bandwidth

Retail Video Analytics (People Counting / Heat Map)

General Video Analytics (Intrusion Alarm / Crowd Detection / Scene Change Detection / Privacy Mask / Unattended and Missing Object Detection)

Advanced Video Analytics (Face Recognition)

Dual-stream resolution for monitoring and recording to save CPU usage

Quick Search Method (Timeline Search / Object Search by Area)

Multiple monitor display for live view and playback on different monitors

E-Map / IO Device Control / PTZ Auto Tracking

Text alert using a PC / mobile device by motion detection/input trigger

GeoVision Dynamic DNS server to register a domain name if no fixed IP address

Support Microsoft SQL and Access database type

Central password management integration with Windows Active Directory

Supports GeoVision, 3rd party IP camera and ONVIF, PSIA, RTSP protocol

Supports GeoVision central monitoring station software (GV-Center V2 / GV-Vital Sign Monitor / GV-Dispatch Server / GV-Control Center)

Mobile Remote Viewing (GV-Eye for Android Smartphone and iPhone / iPod / iPad)
ICU Security uses GV-VMS in its security cameras.  We provide security camera installation and service, access control, IT support, and remote recording in Nashville and surrounding areas. Call us today to find a security solution tailored to your needs.
Established in 1999, ICU Security are Nashville-based security camera installation specialists serving communities in  Brentwood, Murfreesboro, and Franklin, TN. Get in touch by calling (615) 208-2891.